504 | IAASTD Global Report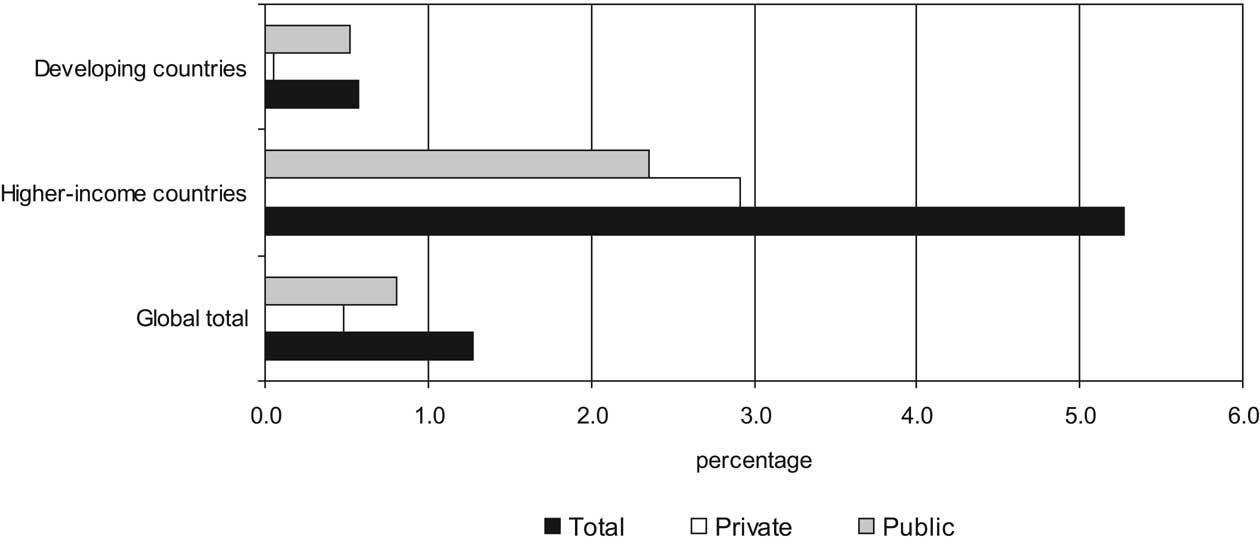 Figure 8-5. Public, private and total agricultural research intensities, 2000. Source: Pardey et al., 2006b based on ASTI data.
Note: The intensity ratios measure total public and private agricultural R&D spending as a percentage of agricultural GDP.

levels are much lower for the developing countries. Most countries, especially those in Africa, spent less than $3 per capita in 2000; while 59% of the industrialized countries invested more than $10 per capita in 2000. In contrast to the group of rich countries, agricultural R&D spending per capita for the developing countries as a group continued to increase from $2.12 per capita in 1981 to $2.72 in 2000. The exception is SSA where spending per capita has declined during the 1981-2000 period.

8.1.1.4 International agricultural R&D
International agricultural research efforts began in the mid­dle of the 20th century when the Ford and Rockefeller Foun­dations placed agricultural staff in developing countries to collaborate with national scientists. These efforts evolved into the establishment of four international organizations

during the 1960s. In 1971 these centers formed the basis for the Consultative Group on International Agricultural Research (CGIAR or CG). Currently there exist 15 centers (see Chapter 2.2.4), with a total budget of US$415 million in 2004—US$384 million in 2000 prices. Although the CG system has played an important role in the Green Revolu­tion, it only spends a small part of total of the global agricul­tural R&D investment. In 2000, the CG represented 1.6% of the US$23 billion global public sector investment in ag­ricultural R&D (from 0.8% in 1981); 2.9% when spending by the rich countries is excluded (Pardey et al., 2006a).
After an initial expenditure of US$7 million in 1960, total spending rose to US$13 million per year in 1965, in inflation-adjusted terms. By 1970, the four founding centers (IRRI, CIMMYT, IITA, and CIAT) were allocated a total of US$15 million annually. During the next decade, the total
Table 8-5. Other intensity ratios, 1981, 1991 and 2000.
Public agricultural R&D spending

Per capita

Per capita of economically active agricultural population

1981

1991

2000

1981

1991

2000

(2000 international dollars)

Asia & Pacific

1.31

1.73

2.35

3.84

5.23

7.57

Latin America & Caribbean

5.43

4.94

4.96

45.10

50.54

60.11

sub-Saharan Africa

3.14

2.69

2.28

9.79

9.04

8.22

West Asia & North Africa

3.24

3.63

3.66

19.15

27.30

30.24

Developing countries, subtotal

2.09

2.34

2.72

6.91

8.14

10.19

Higher-income countries, subtotal

10.91

13.04

11.92

316.52

528.30

691.63

Total

3.75

4.12

4.13

14.83

16.92

18.08